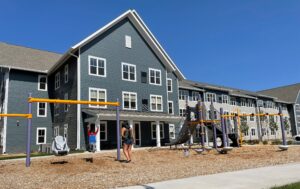 Rental Rates
Rent includes water, sewer, and trash
Rental Rates
1-bedroom (60%)* $ 740
2-bedroom (50%)* $ 775
2-bedroom (80%)* $ 895
3-bedroom (50%)* $ 880
3-bedroom (80%)* $ 1025
* indicates corresponding maximum household income based on household size, as indicated in the chart below. Rental Rates are subject to change without notice
As of July 5, 2022 the Decker Dwellings waiting list for households of (2) or more individuals is open for upcoming 2-bedroom and 3-bedroom apartments.  The waiting list for single person households continues to be closed. Waitlist updates can be found here. 

4715 Decker Road- Duluth, MN 55811
Conveniently located near Miller Hill Mall, Decker Dwellings provides easy access to shopping, groceries, restaurants, transportation and more in the Miller Hill area.
Apartments offer:
Smartly designed 1, 2, & 3 bedroom apartments with abundant closet space and spacious living areas
Individually controlled high efficiency heating and A/C
Luxury vinyl tiled kitchen/living room, carpeted bedrooms
Hardwood cabinets and Energy Star equipped kitchen appliances including a dishwasher
Handicap accessible apartments
Our Community offers:
Smoke Free Living
Controlled Access Entry
Elevator
Fitness Room
Community Room
Laundry areas with free WIFI
Playground/Basketball Court/Picnic areas
Onsite parking
24-hour Maintenance
Eligibility Requirements
Eligibility criteria include, but are not limited to, program required income limits, criminal history, credit history, and rental history screening.